That was … brisk?
After the last bike post, I took the Schwinn in to work like I wanted to. That worked OK. At some point on the way home, I hit a wall, and had to walk up even some embarrassingly gentle inclines. Then I noticed one of the pedals had bent about 10°, and switched into "limp home" mode, since I could not confidently stand and pedal anymore. Even taking it easy, I arrived exhausted, and sweated through three layers of clothing. I put the singlespeed away, and rode the Raleigh on Saturday, and then to work on Monday.
Wednesday was nice and productive: I finally racked the IPA I brewed on 12/31, cleaned up the Raleigh and lubricated its chain, and replaced the Schwinn pedals with some inexpensive BMX platforms. I noticed the old pedal spindles were very hard to turn, so replacing them removed quite a bit of resistance. The lube wasn't making the Raleigh run smoothly, so I took the Schwinn to work again the next morning.
I was still exhausted. I asked a single-speed-riding coworker to test ride the Schwinn, to see if there was anything mechanical working against me, or if it was just me. It was just me. Other than the notable weight of the bike, it was all nice and smooth. However, once I knew it was just me, I found the ride home went much better than the ride in. Either it was just all in my head, or I'm learning how to pace myself, and psychologically handle rides where you can't shift down on hills. I didn't walk the bike at all this time, not even up the "corkscrew of death"(*) approach to the bike/pedestrian bridge by Hamline and Pierce Butler. That had been a big milestone for me on the geared bike.
This morning, though, I had the urge to get out, try out the Schwinn, catch a photo tag, and maybe get a picture or two of the bike. The weather channel said -11F, but with no wind chill and lots of sun. It was a decent ride, 12 miles in all, only one indoor stop for bagels and water. I only needed to pull down the balaclava to pant a few times, and had feeling in my toes for 75% of the time. This was the first time my toes had been any problem, actually.
But anyhow, the pictures… I don't have any "before" pictures, showing the flip+chop handlebars, complete with original burrs and the brake levers mounted backwards. That was the first thing I replaced, with moustache bars, Tektro brake levers, and my first handlebar tape job (looks much more beginner in person, trust me):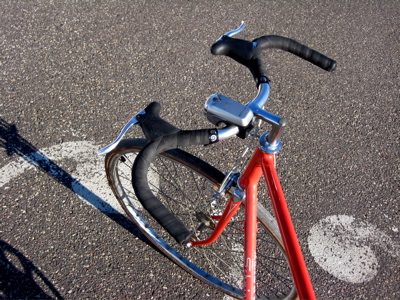 I like this handlebar style. There's a lot of hand positions: I've held on to all of the taped areas for various purposes. Best of all, the hand positions all give you roughly the same height, so moving around for wrist comfort doesn't require you to change torso position.
As for the rest of the bike, I had to replace brake cables, and (partly for looks) replaced the pie plate + 5-speed freewheel with a 16 tooth BMX freewheel: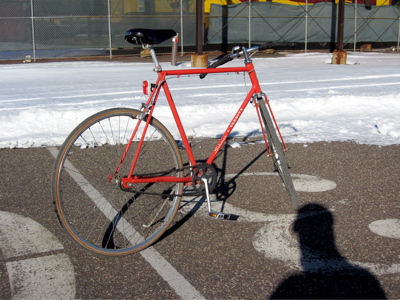 This, combined with the 39 tooth chainring gives me nominally a 65 inch gear. Tires are still originals, as are the steel rims. Steel is real (heavy). It's good training, if nothing else


(*) This actually isn't that great of an exaggeration in the winter, where the hairpin turns are prone to icing up. Then being covered with powdery, slippery snow. Ouch.